Dr Martin Luther College High School


Class Of 1963
In Memory
Stuart Steffen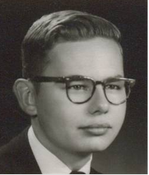 Stuart, 62, died Tuesday April 29, 2008. He was killed when a 100 ft silo filled with corn collapsed on him as he was beginning to unload it. There was a high wind and lots of equipment noise, so it is likely Stuart had no idea what was happening.
He is survived by his wife, Elaine, and children, Merrilee (John) Rogotzke, Tanya (David) Norris, Andrea (David) Schlei, Kari (Bradley) Paul,and Craig Steffen and 15 grandchildren.
Following graduation from DMLHS, Stu graduated from DMLC in 1967. He married Elaine Voth on July 27, 1968. He was a Christian grade school teacher at St. Peter Lutheran School in Chilton, Wisconsin, from 1967-78 and at Immanuel Lutheran School in Gibbon from 1978-81. He returned to the family farm in 1981 to farm with his father and brothers. He also taught at St. John Lutheran School in Sleepy Eye from 1981-82 and later returned to teaching from 1993-96 at Zion Lutheran School in Sanborn. He also served as choir director at Zion Lutheran Church and for the Southwest Minnesota Area Lutheran Chorale for many years.
Stuart enjoyed singing, directing choir, teaching, reading, farming, watching basketball games, visiting, and spending time with his family--especially his grandchildren.
Walt Zimmerman attended the visitation. He writes: I was able to attend the gathering the night before the funeral. The family is blessed to be 100% Christian and incidentally 100% WELS. They had moments of sadness, but fully recognized God's sovereignty and his love--even in the current difficult situation. Hundreds of people came to pay their respects. There were about 3 dozen floral arrangements in the front of the church. He was the director of the SW MN Chorale. They were singing on Friday for the funeral and expected to fill the balcony which holds 60 or more people.
Lois Luetke Kluender remembers: Stuart had a ready smile and a clever sense of humor. He was a good student. In our senior year we all had to take a Civics class with Professor Jaster. Our section met on Saturday morning often after a Friday night basketball ball game. This is probably why Stu arrived in class one Saturday morning without his homework done. The Saturday assignment was routine. There was a topic and we could write an essay, draw a political cartoon and there was a third option that I do not remember. I was sure I could not draw. I always wrote an essay because this was "easy" for me to do even though it took time. I would skip the basketball game to get it done. I sat across from Stu that Saturday morning, when he got that panicked look that comes with realizing one has forgotten to complete an assignment. The topic that week was "Progress in the US." Stu quickly took his pencil. He titled the page: "Progress." Then he drew a tree and a person's head poking out from behind the tree and wrote "Before." Then he drew an outhouse and wrote "After." That was it. He turned in it. Next class we got our papers back and he a "C." I got an "A." That is when I re-thought my belief that I could not draw.
Lois Kluender